Purity One™ manufactures jumper assemblies that are critical to improving the quality of life and overall wellness for people all around the world. Contact our team to begin customizing your solution!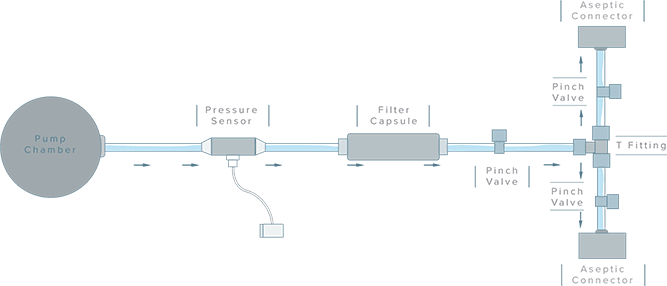 DISCUSS YOUR SINGLE-USE NEEDS
WITH A PURITY ONE™ EXPERT
Partner directly with our experts to create a custom solution to meet the needs of your application. 
ABOUT PURITY ONE™ JUMPER ASSEMBLIES
Single-use jumper assemblies are designed to provide a reliable and efficient solution for fluid transfer in a range of industries.
These disposable and pre-assembled systems offer numerous advantages, including quick and seamless connections between different components. With easy integration into existing setups, they streamline processes and save valuable time. Furthermore, the single-use nature of these assemblies minimizes the risk of cross-contamination, ensuring the highest standards of cleanliness and sterility.
Whether you require them for biopharmaceutical manufacturing, food processing, or laboratory applications, there are customizable options available to suit your specific fluid transfer requirements. Explore the possibilities and enhance your workflow efficiency, contact us to get started.
Our Commitment to Quality
Purity One™ manufactures single-use and custom hose solutions that are critical to improving quality of life and overall wellness for people all around the world. With our combined technical expertise and cleanroom assembly capabilities, we focus on providing a level of service and quality-assurance that is unparalleled in the global life sciences, biopharmaceutical and pharmaceuticals industries.
EXPLORE OTHER TUBING & MANIFOLD SOLUTIONS
READY TO OPTIMIZE YOUR ASSEMBLY?
Tell us where you'd like to make improvements to your process and we'll help you find the right solution to address your unique needs.