Explore P1SGHD, a cutting-edge platinum-cured double braided silicone hose designed to meet the diverse needs of the biotech, pharmaceutical, food and cosmetic industries. Purity One™ hoses are meticulously crafted to provide optimal performance in a wide range of high purity applications. With a focus on quality, durability, functionality, and customer service, these hoses ensure reliable fluid handling and transport.
CONFIGURE YOUR CUSTOM
HOSE SOLUTION NOW
Try our custom hose configurator! This design tool allows you to diaphragm your assembly and send it directly to our experts!
PLATINUM-CURED, DOUBLE BRAIDED SILICONE HOSE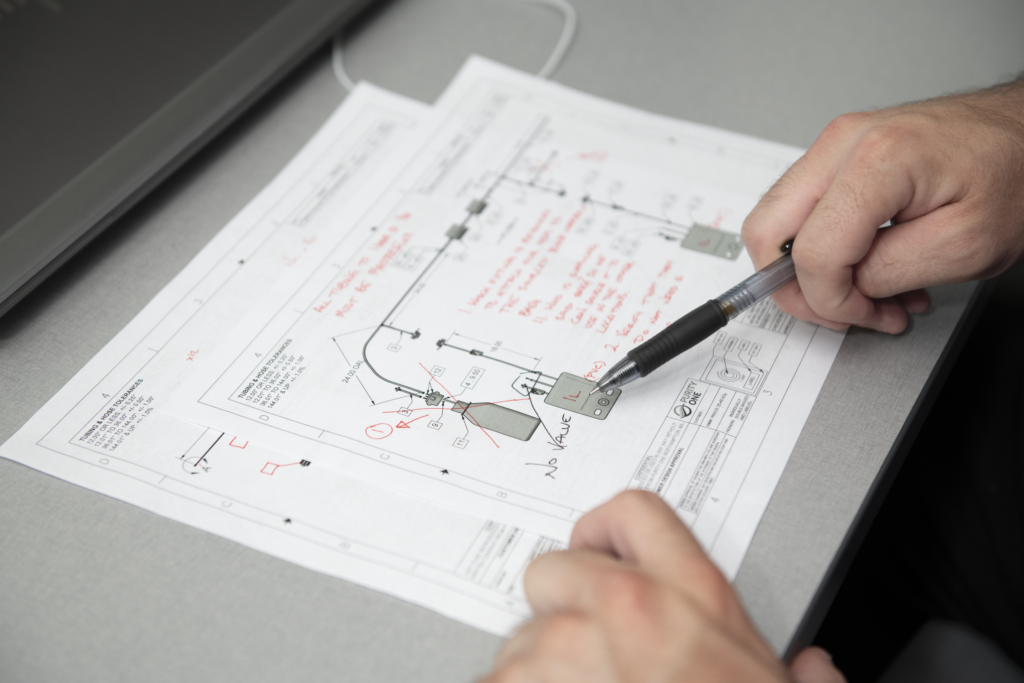 Tell us where you'd like to make improvements to your process and we'll help you find the right solution to address your unique needs.
Biopharmaceutical grade, platinum-cured silicone
Double-braided silicone hose for high pressure applications
Temperature range: -80°F (-62°C) to 500°F (260°C)
Resists temperature extremes, compression set, chemical attack, moisture and environmental exposure
It may be washed with any mild detergents
Sterilizable by autoclave, CIP, SIP, and Gamma Irradiation
Purity One™ hose traceable with serial and lot numbers
Purity One™ labeling system available
1-year warranty
Purity One™ hose measuring system (available upon request)
24-hour emergency service available
Silicone hose for delivery of high purity products, food products, and fluids with alcohol content up to 96%
Normally used in pharmaceutical, food, and cosmetic industries
CIP, SIP, Process Applications
Purity One™ Certificate of Conformance and test results with each order
In Compliance; FDA, EU Food, USP Class VI, EN;16643 & Material Certification
Free from animal derived ingredients, phthalates, adipates, nitrosamines
Sanitary, EP
Flange
Pipe Thread
Cam Lock
Quick Disconnects
Others (available upon request)
PRODUCT
NUMBER
NOMINAL I.D.
O.D.
WORKING
PRESSURE
AT 70°F (21.1°c)
BURST PRESSURE
AT 70°F (21.1°c)
MINIMUM
BEND
RADIUS
STANDARD
LENGTH
(in)
(mm)
(in)
(mm)
(psi)
(bar)
(psi)
(bar)
(in)
(ft)
P1SGHD-0500
0.50
12.7
0.890
20.0
200
13.9
800
55
2.5
50
P1SGHD-0750
0.75
19.0
1.180
30.0
170
11.7
680
47
3.0
50
P1SGHD-1000
1.00
25.4
1.430
36.0
125
8.6
500
35
3.5
50
P1SGHD-1500
1.50
38.0
2.142
54.0
100
6.9
400
28
6.5
25
P1SGHD-2000
2.00
50.8
2.695
69.0
75
5.2
300
21
9.5
25
Our Commitment to Quality
Purity One™ manufactures single-use and custom hose solutions that are critical to improving quality of life and overall wellness for people all around the world. With our combined technical expertise and cleanroom assembly capabilities, we focus on providing a level of service and quality-assurance that is unparalleled in the global life sciences, biopharmaceutical and pharmaceuticals industries.
READY TO OPTIMIZE YOUR ASSEMBLY?
Tell us where you'd like to make improvements to your process and we'll help you find the right solution to address your unique needs.